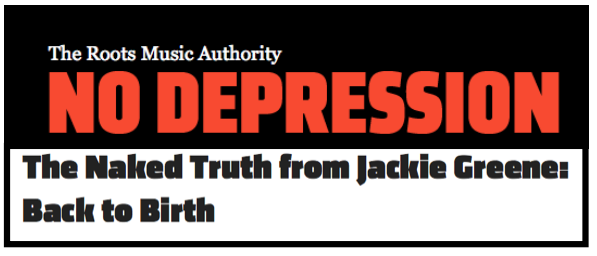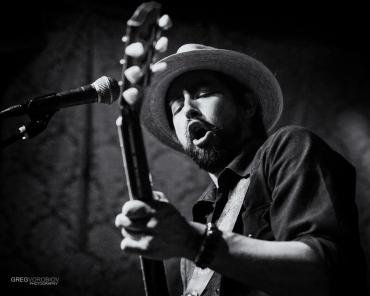 He's played with Phil Lesh & Friends, the Dead, Warren Haynes and Government Mule, the Black Crowes, and, when the intensely busy schedule he's kept for most of the past ten years permits, on his own.  These days, Jackie Greene is out and about, in a town near you, with a lovely, lyrical new record of songs from the heart.
CLICK HERE TO GO TO NO DEPRESSION OR CONTINUE ON...
Since 2010, Greene has been "edging toward" making this record.  He began writing songs that fit together, and he wanted a sound that was something more -- or rather less -- than clean and spare. Stripped down, I suggest in a recent interview. Even less than that. "These are songs that wanna be naked," he says, chuckling. "Songs for nudists."
Greene started working on Back to Birth (YepRoc 2015) in 2012. "The idea was to do it at my home studio," he explains. "[But] for one reason or other I wasn't stoked, so I set it aside."  Then Greene ended up on tour with the Black Crowes for a year.  "I went back to it in 2014. By that time, the versions I'd recorded at home became the demos."
The years cycled by, and the songs were, appropriately, written that way too. "[Back to Birth] has got a cyclical existence," he says. "There's a subtext to the whole record, a connecting tissue holding these songs together."
One of those vital connections is the death of Greene's father, who passed away in 2011 and to whom the record is dedicated.  "I always wanted it to have an organic feeling," Greene says. "We'd figured out which songs went together already, and recorded it in about eight or nine days. The whole idea was because the batch of songs were, to me, a more honest approach of songwriting. It's a record without a lot of trickery."
The honesty, and simplicity -- though the record is nowise simple, in its lyrics and musical style -- is reflected in the song titles: "Hallelujah" and "Light Up Your Window" and "Trust Somebody," and even in the look of Back to Birth. It's packaged without fanfare or even color, in black and white, riveting visually in its modesty and reminiscent of JT, The Times They Are a-Changin', and other stark but spectacular solo albums.
Greene describes Back to Birth repeatedly in physical terms, once calling it "an itch I needed to scratch. It feels right, at this time in my life." He's 34 now, 35 on November 27.
Did he write the songs at the piano, on his guitar? "When I sit down to write a song," he explains, "I don't really prefer one or the other. I don't view instruments as more than a means to an end, then. [I use] them for getting down what's in my head, in my heart."
Nonetheless, he continues, "it just felt right to stay on the piano. The songs dictated that to me."
A guitar, after all, is an instrument for traveling. And a piano, unless you can afford to hit the road with your baby grand, is an instrument for staying at home.  These songs feel homegrown -- perhaps the piano played into this. "When we went to record," he says, "we kinda just needed a good grand piano and a tape machine."
What was he listening to while he was writing these songs? Greene's answer is immediate: "the same music as Jerry Garcia, though without so much acid involved," he jokes. "Not contradictory at all."
There was a lot of old gospel on Greene's playlist too, particularly Mahalia Jackson. "I mean, I wrote a song called 'Hallelujah,' for God's sake," he quips.
You can hear the influences. Many of the tracks on Back to Birthwould sound good in a church, as is true of many Grateful Dead songs, which ring like a mash-up of the bluest Delta blues and a backwoods camp meeting. Greene listened to other Americana, too -- old blues, work songs. So, I had to ask: would he call Back to Birth an Americana record? Yes, as long as that word, to quote Walt Whitman, contains multitudes.
"Americana," muses Greene.  "It's just like anything that feels roots-based: blues, folk, gospel. We need a word to classify things. Real art to me is when people make something out of nothing. Like slaves, working in the field, living in the worst human condition imaginable, yet they created beauty with spirituals and the blues. That's the real deal."
Indeed, Back to Birth is no typical contemporary release, no set of slick songs co-written by many and co-produced by more. "No gimmicks," says Greene, "not shiny.  It doesn't buy you a latte."  He wants his music to be "more mesmerizing, that's the word, than anything else."
California Boy
A California boy, born and raised in Salinas, Greene now also has a place in Brooklyn. "Bicoastal, that's what I am now," he says, with a smiling hint of healthy self-deprecation. He loves the San Francisco Giants, but also delights in New York's vast music scene, frequently heading over and up to Carnegie Hall for concerts. "The first time I went [to Carnegie Hall]," he remembers, "was with Phil [Lesh]. We got all dressed up, black tie, and heard the Vienna Philharmonic do Mahler's 9th."
Greene is on both his home coasts, but not neglecting the rest of the country either, through the end of the year.
We spoke just before his current tour began, and Greene was, he said, "looking forward to playing with two guitars, bass, and drums, a down and dirty rock band." That down and dirty band is constituted of Greene on guitars and keyboards, Nathan Dale on guitar, Brian Filosa on bass, and Fitz Harris on drums. The tour isn's a necessary chore, but to hear Greene talk about it and about his record, more of a holiday for him. "This is a way to kinda let it breathe," he says of his airing the songs live.
By Labor Day, the band had half the songs in touring shape, with the rest well on the way. "We're going to see how the songs evolve. Someone said to me once, you better like the songs you write, because you're gonna get sick of playing them. That's bullshit." Greene doesn't get sick of his songs -- but he is always sensitive to an audience's reception of them.
"'Honey I Been Thinkin' About You' -- I rarely sing [that song] all the way, the last verse. I have to feel like I've got everybody's attention to do that." The songs of Back to Birth ask you to pay attention. The lyrics matter -- that's why they're printed out for you to read, the old-fashioned way.
Greene is pleased with how it all turned out. "[I made] a record I want make. And you have to really listen to the songs," he says. Indeed, Back to Birth is not a record for digital listening. As he says, it's for "anybody who cares about the album as an art form. It demands that you listen to it as an album, front to back. It demands physical attention." It demands some ceremony, and some time -- and be glad that it does, because those things are both sadly lacking in our world today. Go on, buy a turntable if you're unfortunate enough not to have one.
---
Anne Margaret Daniel  2015  Lead photo by Greg Vorobiov. Other photographs via @thejackiegreene and @realvenetianblonde on Instagram